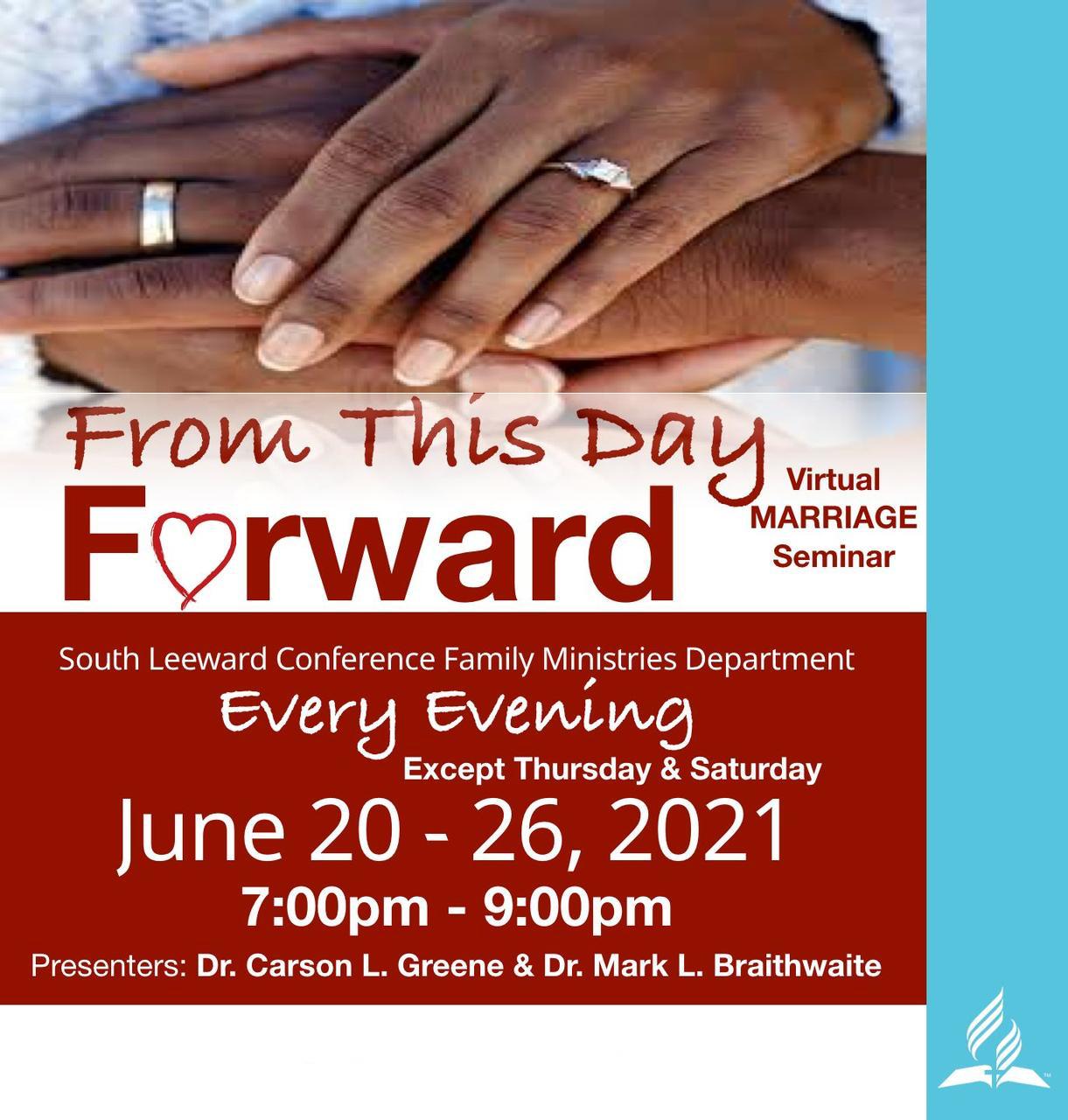 July 9, 2021 | St. John's, Antigua | Shirley T. James
"Exciting", "timely", and "informative but too short", were just a few words used to describe the one- week, marriage seminar (June 20 - 26, 2021), organized by the Family Ministries department of South Leeward Conference (SLC). "From This Day Forward" was a dynamic program, geared to enrich the quality of life for married and soon-to-be-married couples. The hosts, Mr. and Mrs. Glenroy and Shermaine Rogers, skillfully performed the tasks of welcome, introductions, interviews and timekeeping.
There were five fully packed nights where nearly 200 couples came together on the Zoom platform to sit at the feet of three illustrious Family Ministries leaders. These leaders were Dr. Carson Greene and Dr. Mark L. Braithwaite, hosts of Marriage Encounter (a popular radio program) and visiting pastor, Pastor Jerry Languedoc of the North Caribbean Conference of Seventh-day Adventists (NCC). These presenters collaborated to bring out important gems for the benefit of the couples.
Couples from all the islands of SLC and from the Philadelphia Seventh-day Adventist Church in NCC were given the opportunity throughout the week to actively participate in the program through prayers, interviews, and special music. All participants were encouraged to ask questions and make comments through the Zoom chat.
Topics presented included: The Joy of Oneness, Communication, Problem Solving, Sexual Oneness, and Forgiveness. Persons remarked that there was so much to learn or be reminded of. The week climaxed with a brilliant recommitment service, where participants were given certificates.
From all accounts, relationships seemed to have been strengthened and passions seemed to have been further ignited, but one question remains, when is the next program of this kind coming up? The Family Ministries department of the South Leeward Conference is committed to fulfilling its mandate of enhancing family life; for having healthier family relationships should help all 'from this day forward'.