September 25, 2020 | St.John's, Antigua | Eulalie Daley-Semper and Darlene Omeir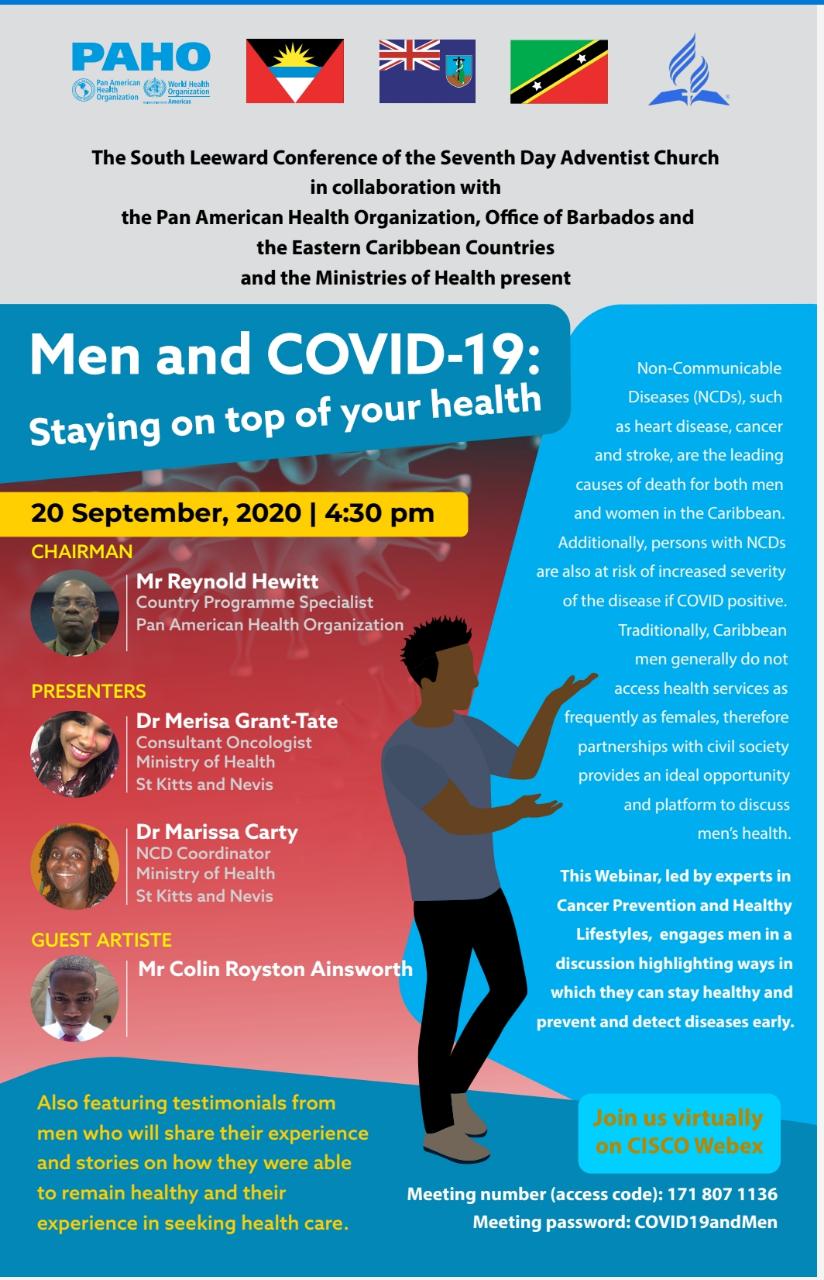 COVID-19 has been declared a public health emergency of international concern and a global pandemic by the World Health Organization. This global threat to health security underscores the urgent need to accelerate progress on achieving Sustainable Development Goal (SDG) 3, particularly Target 3.D, which calls for improving early warning systems for, and the reduction and management of global health risks. It also reveals what is less obvious, but no less urgent: how health emergencies such as COVID-19, and the response to them, can exacerbate domestic violence and derail hard-won progress not only on SDG 3 but on all the SDGs. Emerging data shows that since the outbreak of COVID–19, violence against women and girls (VAWG) and particularly domestic violence has intensified and is expected to increase.
While many men stand in solidarity against the use of violence, the reality is that men are usually the perpetrators of gender- based violence.
Men's experience with violence is influenced by psychological, emotional, and behavioral factors. In collaboration with related sectors, health professionals can help prevent or intervene in male perpetration of violence. This can 893 1325 3309 accomplished through identification of factors that place men at risk. Additionally, preventive and interventional resources can be made available to interested individuals in order to facilitate education and advocacy.
The eradication of domestic violence cannot be achieved without the involvement of men and boys. Change is slowly taking place, and men are increasingly working alongside women in order to achieve this.
The South Leeward Conference of Seventh-day Adventists (SLC) and the Ministry of Health of Antigua and Barbuda organized a training seminar targeting men in the church and in the community. The objectives were as follows:
1. To examine factors that influence gender-based violence (GBV) and the effect on men's health.
2. To present the current situation on GBV in Antigua, Barbuda, St. Kitts, Nevis, and Montserrat.
3. To share the current services available to address GBV and men's health in these territories.
This was a needed training seminar that allowed for engagement on a virtual platform. An evaluation during the session revealed that a great number of men desire to better support women. The options of assistance for men who are victims of domestic violence were explored, and it was discovered that St. Kitts is the only territory in SLC with a named place (The Garden of Eden Rebirth Centre) that men can access for support. The attendees challenged SLC to explore the possibility of developing such a healing centre.
The SLC looks forward to continued partnerships and hopes that men, as priests of their households, will continue to explore and embrace opportunities for growth and development.